Olivas Links Get Golf Ready
GET GOLF READY
Get Golf Ready is comprised of a series of five introductory lessons offered by our PGA Professional & staff instructors. Classes offer a small-group environment at the affordable price of only $99.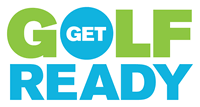 Olivas Links is bringing adults into the game of golf in a fast, fun and affordable way through the new Get Golf Ready in 5 Days program.
Give us 5 days...we'll give you a sport for a lifetime.

Next Class Start Date will be March 29th at 5:30 PM

For more information or to register for a Get Golf Ready Class please contact Jason Beatty at jbeatty@kempersports.com or (805) 642-4303.


Classes are specific and start with a #1 class and run for five consecutive weeks through the #5 class.

Each of the five lessons provide basic skills instruction as well as information regarding the background of the game's rules, etiquette and values. Significant on-course learning opportunities will be a part of each lesson. Overall, participants will gain insight into techniques regarding putting, chipping, full swing, half swing and Teeing-Off as well as the fundamental guidelines regarding the use and maintenance of golf equipment, keeping score and navigating the course, among others.
GET ON COURSE
After the completion of Get Golf Ready, Olivas Links instructors will help you "Get on Course"! Get On Course is our student's next step in learning how to play golf while being supervised by a PGA Professional. Have fun applying the principles learned in Get Golf Ready class with other golfers at your same skill level as well as learn about pace of play, rules, golf etiquette, and most importantly how to SCORE. So, sign up for Get On Course and let's start playing golf!
Recommended prerequisite: Get Golf Ready or prior lessons
UPCOMING SCHEDULE: Saturdays at 8 AM beginning on March 25th. Each class will meet on the Driving Range. Please arrive early and warm up prior to the start of the class. The cost for each hour long class is $30 or Pay $120 for 5 classes
For more information, please contact Head Golf Professional, Jason Beatty at Jbeatty@kempersports.com or (805) 642-4303.
PLAY GOLF AMERICA
Play Golf America, designed to increase participation among new and existing golfers, was developed by The PGA of America, with the support of allied associations including: the LPGA, National Golf Course Owners Association, PGA TOUR, USGA and others involved in the annual Golf 20/20 conference.
|